Pope Francis tells ITV News human trafficking is 'a crime against humanity'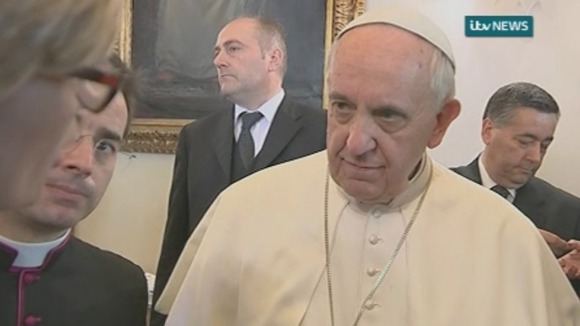 Pope Francis has exclusively told ITV News Presenter
Julie Etchingham
that human trafficking is "a crime against humanity".
Asked if he had a message for those responsible for human trafficking, the Pope said: "It's an absolute shame. It's a crime against humanity.
"It's a form slavery and as Christians, those who suffer are the body of Christ, the flesh of Christ.
"Humanity still hasn't learned how to cry, how to lament. We need many tears in order to understand the dimension of this drama."
Pope Francis spoke to ITV News while at a Combating Human Trafficking Conference hosted by the Vatican.
He told the event:
I exhort the international community to adopt an even more unanimous and effective strategy against human trafficking, so that in every part of the world, men and women may no longer be used as a means to an end, and that their inviolable dignity may always be respected.