Petrowski, Loudenbeck seeking support for human trafficking bill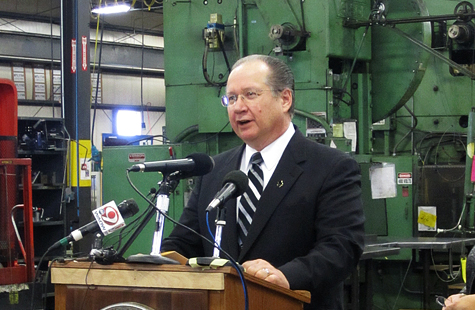 MADISON, Wis. (WSAU) -- Human trafficking is being addressed by proposed legislation in Wisconsin. Senator Jerry Petrowski is seeking cosponsors now for the bill that would give law enforcement more tools to stop the practice, which often targets young people.
Petrowski says the legislation is part of an initiative by the Department of Justice, law enforcement, and legislators to address a problem. "The FBI rescued 10 children from trafficking in the State of Wisconsin, and this was the second highest total out of all the states in the nation, and so this is an effort to try to tighten things up to maybe close some loopholes and throw a wider net out, and to deal with this issue."
The Senator says the trafficking problem is bigger than many people realized, and something needs to be done to protect our children. "Many times, young people are lured into calling up and applying to an ad in the paper for modelling, for business, for jobs, for whatever, and they get to a place and they end up being taken in and maybe even drugged."
Petrowski says there are matching companion bills in the Assembly and Senate. Representative Amy Loudenbeck has introduced the package in the Assembly. Petrowski expects the public will be able to comment on the proposal shortly. "We're looking at holding a hearing relatively soon, and hopefully we'll get this through both houses and onto the Governor's desk before spring."
Some of the provisions of the bill gives law enforcement the ability to go after property and materials used in trafficking, increase penalties for people involved, and give better definitions of the specific trafficking crimes. This includes expanding the definition of a "commercial sex act" in the statutes, limiting the ability to prosecute minors engaged in prostitution and allowing the minor victims of trafficking to have prostitution convictions vacated or expunged, and giving victims greater confidentiality rights, and adding stalking to the list of crimes resulting in imposition of the domestic abuse surcharge. The bill would also allow courts to accept evidence of similar acts by the accused in trafficking and child sex crimes.
Petrowski says once victims are under the control of traffickers, they are usually coerced or drugged into dangerous or illegal activities including prostitution and pornography.