http://www.theguardian.com/law/2014/jan/27/sexual-domestic-slavery-director-public-prosecutions
Fighting sexual and domestic slavery 'requires help of European agencies'
Alison Saunders, director of public prosecutions, also proposes better co-operation between charities who support victims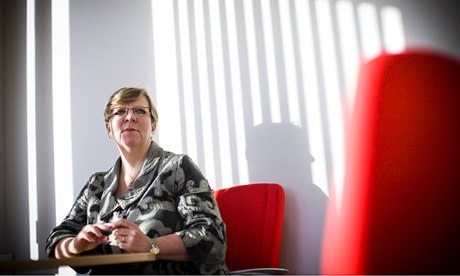 An action programme agreed by Alison Saunders and an inter-ministerial committee also proposes expanding co-operation between charities that support victims so more information can be disclosed to prosecutors.
A list of 11 recommendations has been agreed following a summit on trafficking attended by the DPP, police forces, other law enforcement agencies and departmental officials on 4 December last year.
Among the changes advocated is for the police and the Crown Prosecutions Service (CPS) to "consider the earlier use of Europol and Eurojust and use of joint investigation teams to combat trafficking and slavery".
Encouragement of closer ties with EU organisations comes at a time when the government is considering opting out of EU criminal justice measures and selectively opting back into a smaller number of measures.
More specialists should be called in to "improve investigations and prosecutions", according to the DPP's plans. Expert witnesses, it is suggested, would assist understanding of how trafficking takes place and the impact it has on its victims.
"By improving awareness and developing closer, proactive working relationships across the criminal justice system both here and abroad, I am determined that these actions increase the number of cases referred to the CPS for consideration which, in turn, should result in more prosecutions."
Another recommended action is for the CPS to give advice to independent agencies and charities supporting individual trafficking and slavery victims "on their responsibilities in respect of the disclosure of files in criminal proceedings".
A memorandum of understanding is being drawn up on improving the handling of information and evidence about those who have been trafficked. It will set out what information should be exchanged with prosecutors, the provision of information to victims and how to handle information and evidence disclosed by them.
The aim of the programme is to overcome difficulties in prosecuting those responsible for trafficking vulnerable individuals from abroad into the sex trade or domestic slavery in Britain. Improved co-operation with international agencies was identified as one of the main ways of tackling cross-border crime.
A further offence created under section 71 of the Coroners and Justice Act 2009 criminalises those who hold another person in slavery or servitude, or require or force them to perform compulsory labour.
Among other recommendations in the action programme are for more research to be carried out to assess the scale of the problem in the UK, for more protection to be offered to victims at risk of intimidation if they give evidence and for better legal representation for underage victims.